Gechbaia Badri Nodarovych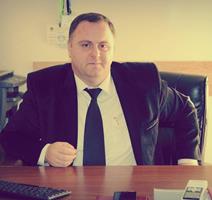 Date of birth: December 5, 1981
D.Sc. (Economics), Ass. Prof., Academician of Georgian Academy of Business Sciences, Corresponding Member of Regional Academy of Management.
Place of work: Batumi Shota Rustaveli State University, Head of Department of Business Management; the National Institute of Economic Research, Director
Research interests:
- macroeconomics;
- regional economy;
- management of organizations.
Reference links:
ORCID: https://orcid.org/0000-0003-2815-2228
Google Scholar: https://scholar.google.com.ua/citations?user=Pr7-BPcAAAAJ&hl=ru
Web of Science / Publons: https://publons.com/researcher/1832574/badri-gechbaia/
The most significant scientific works:
Kharaishvili E., Gechbaia B., Mamuladze G. Vegetable market: competitive advantages of Georgian product and competition challenges. Innovative Marketing. 2018. No. 14 (3). Р. 8–16. URL: https://businessperspectives.org/innovative-marketing/issue-296/vegetable-market-competitive-advantages-of-georgian-product-and-competition-challenges DOI: 10.21511/im.14(3).2018.02
Mushkudiani Z., Shonia N., Gechbaia B. The Characteristics of Travel Insurance in Georgia and Its Ways of Improvement. The Journal of Middle East and North Africa Sciences. 2017. No. 4 (2). P. 33–38. URL: https://platform.almanhal.com/Reader/Article/114621
Gechbaia B., Kharaishvili E., Maumladze G., Goletiani K. Current Challenges of Grocery Market and Key Directions of Development of Agriculture in Georgia // Proceedings of the 2019 International Conference "ECONOMIC SCIENCE FOR RURAL DEVELOPMENT". No. 50 Jelgava, LLU ESAF, 9-10 May 2019. P. 52–60. DOI: 10.22616/ESRD.2019.006
Гечбаія Б. Н., Шимановська-Діанич М. Л., Іщейкін Т. Є. Креативний менеджмент як засіб управління організаційними змінами в діяльності підприємств України. Вісник Маріупольського державного університету. Серія : Економіка. 2016. Вип. 11. С. 143–151. URL: http://nbuv.gov.ua/UJRN/Vmdu_ek_2016_11_20
Гечбаия Б. Н., Шимановская-Дианич Л. М. Принципы и подходы к формированию региональной конкурентоспособности. Вісник Маріупольського державного університету. Серія Економіка. 2015. Вип. 9. С. 14–20.
Гечбаія Б., Вдовенко Н., Давиденко Н. Фінансова діяльність рибогосподарських підприємств : підручник. Київ : Кондор, 2015. 538 с.
Contact Email: badrigechbaia@gmail.com