Salashenko Tetiana Ihorivna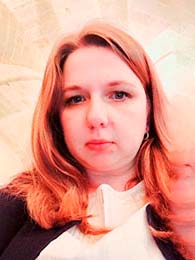 Date of birth: December 21, 1985.
Candidate of Economic Sciences
Place of work: Research Center for Industrial Problems of Development of NAS of Ukraine (Ukraine, Kharkiv), Senior Research Fellow of Section of Energy Security and Energy Savings, Department of Industrial Politics and Energy Security.
Research interests:
- reorganization and liberalization of energy markets;
- stratezing of the state energy policy;
- conceptual frameworks of strengthening the energy security of Ukraine and its regions;
- increasing the energy efficiency by the sectors of economy;
- decarbonization and green energy transition.
Author of more than 80 publications: including 12 monographs (1 personal, 4 co-authored and 7 multi-authored ones).
Co-author of analytical notes addressed to the Presidential Office of Ukraine, Strategies for the development of Kharkiv up to 2020 and Kharkiv region for 2021-2027.
Reference links:
ORCID: https://orcid.org/0000-0002-1822-5836
Google Scholar: https://scholar.google.com.ua/citations?user=YF1VrNgAAAAJ&hl=uk
Scopus: https://www.scopus.com/authid/detail.uri?authorId=57340287400
Web of Science / Publons: https://www.webofscience.com/wos/author/record/AEH-5276-2022
The most significant scientific works:
Chen Q., Balian A., Kyzym M., Salashenko T., Gryshova I., Khaustova V. Electricity Markets Instability: Causes of Price Dispersion. Sustainability. 2021. No. 13. 12343. DOI: 10.3390/su132212343 (Scopus Q1, Web of Science)
Wang D., Gryshova I., Balian A., Kyzym M., Salashenko T., Khaustova V., Davidyuk O. Assessment of Power System Sustainability and Compromises between the Development Goals. Sustainability. 2022. No. 14. 2236. DOI: 10.3390/su14042236 (Scopus Q1, Web of Sciences)
Osi ́nska M., Kyzym M., Khaustova V., Ilyash O., Salashenko T. Does the Ukrainian electricity market correspond to the European model? Utilities Policy. 2022. No. 79. 101436. DOI: 10.1016/j.jup.2022.101436 (Scopus Q1, Web of Science)
Wang D., Gryshova I., Kyzym M., Salashenko T., Khaustova V., Shcherbata M. Electricity Price Instability over Time: Time Series Analysis and Forecasting. Sustainability. 2022. No. 14 (15). 9081. DOI: 10.3390/su14159081 (Scopus Q1, Web of Science)
Енергетична модель економічного зростання України : кол. моногр. / авт. кол. : Кизим М. О., Хаустова В. Є., Шпілєвський В. В., Губарєва І. О., Котляров Є. І., Салашенко Т. І. та ін. Харків : ФОП Лібуркіна Л. М., 2021. 340 с. ISBN 978-617-7801-32-9. URL: https://www.researchgate.net/publication/365047098_Energeticna_model_ekonomicnogo_zrostanna_Ukraini_Energy_model_of_economic_growth_of_Ukraine
Салашенко Т. І. Наукове забезпечення лібералізації ринку електричної енергії України : монографія. Харків : ФОП Лібуркіна Л. М., 2020. 432 с. ISBN 978-617-7801-14-5 URL: https://www.researchgate.net/publication/353322442_Salasenko_T_I_Naukove_zabezpecenna_liberalizacii_rinku_elektricnoi_energii_Ukraini_monografia
Теоретико-прикладні аспекти декарбонізації та розвитку розподіленої електроенергетики України: монографія / за ред. Кизима М. О. ; авт. кол. : М. О. Кизим, В. Є. Хаустова, В. В. Шпілєвський, Є. І. Котляров, Т. І. Салашенко, Костенко, О. В. Шпілєвський, О. В. Лелюк та ін. Харків : ФОП Лібуркіна Л. М., 2020. 344 c. ISBN: 978-617-7801-15-2. URL: https://www.researchgate.net/publication/346607019_Teoretiko-prikladni_aspekti_dekarbonizacii_ta_rozvitku_rozpodilenoi_elektroenergetiki_Ukraini_Theoretical_and_applied_aspects_of_decarbonization_and_development_of_distributed_electricity_in_Ukraine
Афанасьєв М. В. Салашенко Т. І. Теоретико-прикладні аспекти сталого розвитку електроенергетики України : монографія. Харків : ФОП Лібуркіна Л. М., 2022. 224 с. ISBN 978-617-7801-34-3. URL: https://www.researchgate.net/publication/364055061_Teoretiko-prikladni_aspekti_stalogo_rozvitku_elektroenergetiki_ukraini
Салашенко Т. І. Концепція конкурентного ринку електричної енергії України на постнеоліберальній основі. Проблеми економіки. 2022. № 3. C. 70–83. DOI: 10.32983/2222-0712-2022-3-70-83
Кизим М. О., Хаустова В. Є., Салашенко Т. І., Лелюк О. В. Концептуальні засади зміцнення паливної безпеки національної економіки. Проблеми економіки. 2017. № 1. С. 79–88. URL: https://www.problecon.com/export_pdf/problems-of-economy-2017-1_0-pages-79_88.pdf
Khaustova V. Ye., Salashenko T. I., Lelyuk O. V. Energy security of the national economy based on a systems approach. Науковий вісник Полісся. 2018. № 2 (14). Ч. 1. С. 79–92. URL: http://nvp.stu.cn.ua/article/view/140212
Салашенко Т. І. Оцінкa прогресивності електроенергетичного циклу України у європейському просторі. Вісник ОНУ. Серія : Економіка. 2019. Т. 24. Вип. 2 (75). С. 25–31. URL: http://liber.onu.edu.ua/pdf/visn_econom_24_2(75).pdf
Салашенко Т. І. Енергетика України та світу в умовах пандемії: наслідки та заходи боротьби. Економіка та держава. 2020. № 5. С. 137–142. DOI: 10.32702/2306-6806.2020.5.137
Кизим М. О., Салашенко Т. І., Конкурентний ринок електроенергії: теоретичні підходи та моделі формування. Проблеми економіки. 2020. № 2. C. 130–143. DOI: 10.32983/2222-0712-2020-2-130-143
Губарєва І. О., Салашенко Т. І. Моніторинг електроенергетичної безпеки як інструмент державного регулювання ринку електроенергії України. Проблеми економіки. 2021. № 1. C. 11–20. DOI: 10.32983/2222-0712-2021-1-11-20
Contact Email: tisandch@gmail.com